State-of-the-Art, Retinal Diagnostic Technology
Standard Retinal Lasers Have Modernized
While lasers have been used in retinal diagnostic treatment for many years, patients and doctors alike know that the techniques and technologies of the past were far from perfect. Advances in ophthalmology technology over the past few years brought us pascal, micropulse, and the navigated laser.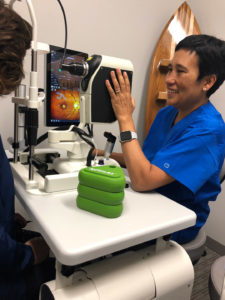 The newest is the navigated laser, theNavilas® retinal laser OD-OS which causes less discomfort for patients and provides us with more precise treatment.
Our patients greatly benefit from ultra-widefield photography that give us superior visibility into all parts of the retina, even those that were previously unreachable. Most retinal cameras capture 30 degrees, but wide angle cameras capture 94% of the retina and with slight movements of the head they capture 98%.
These technologies, in combination with a thorough, standard eye exam, give us more complete information and allow us to make better decisions about your ongoing care and treatment.
Advanced Technology Onsite For Diagnosing Retinal Conditions
The Global Retina Institute also offers diagnostic technology not typically found in a standard retinal specialty practice. We provide our patients with state-of-the art eye exams that include front and back of the eye and orbital ultrasound technology. These technologies are so precise that they allow us to treat all ages, from newborn infants all the way up to our elderly patients.
Having all of these technologies onsite saves our patients the frustration of having to book additional appointments and travel to other facilities for specific testing. We do everything right here in our office, and provide you with a thorough explanation of testing and surgical procedures so that that you know exactly what to expect before, during, and after. Unlike others, we do not charge hidden or facility fees on top of the treatment.
Most Common Retinal Conditions
We specialize in treating patients with the following conditions.
We also provide access to clinical research trials for qualifying patients where indicated (*).
Diabetic Retinopathy: NPDR, PDR, and DME (Diabetic Macular Edema) *
Macular Degeneration: "Wet" and "Dry" AMD (geographic atrophy) *
Central Serous Retinopathy
Vitreous Macular Tractions: Macular Pucker, Macular Hole (Vitreous Retinal Interface Diseases)
Intraocular Inflammation (Uveitis)
Retinal Holes
Retinal Vascular Diseases: Retinal Macroaneurysm, Retinal Artery and Retinal Vein Occlusions *
Vitreous Hemorrhage
For more information about the diagnosis and management of any of these conditions, please visit our Resource Center.
Common Tests For Retinal Conditions
You will not be charged a facility fee for any of these in-office procedures performed by our retinal specialist:
Anterior High Resolution Ultrasound (UBM)
Ultrawide Field Fluorescein Angiography
Ultrawide Field Autofluorescence
High Resolution Anterior Segment OCT
Goldmann Visual Field
Indocyanine Green Angiography
Ultra-Widefield Photography
Optical Coherence Tomography - Angiography (OCT-A)
Spectralis Multicolor Imaging
Ocular and Orbital Ultrasound
Optic Nerve Photography
Retinal Surgical Procedures
Retinal surgical procedures performed onsite by our provider:
Intravitreal Injections
Pneumatic Retinopexy
Navigated laser
Micropulse Laser
Cryopexy
Retinal surgical procedures performed offsite by our provider:
Vitrectomy
Scleral Buckle
For more information on any of the retinal testing or retinal surgical procedures listed above, please visit our Resource Center. We look forward to assuring the best care for the health of your eyes.